I like blog parties:)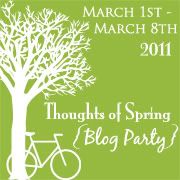 How would people describe your personality? (If they could only use ONE word.) Are they right?
Okay, this is a tough question so I used my "ask a friend" option and asked my mom and my brother...
Bro says: corngy - he just made it up, and he's not sure what exactly it means, but he says it describes me perfectly. Ooo-kay...
Mother says: complex
I guess I asked for it;)
Are they right?
Um, I guess...mom is, but I'm waiting for Alex to tell me what "corngy" means before I say one way or the other.
What celebrity/celebrities would create a "Star-Struck" feeling if you saw them in real life?
Jimmy Stewart...only he's dead. I know! Olivia de Havilland. She's still alive and I would love to meet her:)
Oh, and Viggo Mortensen (Aragorn from the LOTR films).
Who is your favorite blogger? Why?
Oh, dear - this can't be a fair question! Ok, of the bloggers
I don't know in real life
, I'd have to say
Grace
:)
What is your comfort food/drink?
Drink : Hot cocoa with whipped cream and a peppermint stick=)
Food: Sushi
Be brave – tell us something very random and weird about yourself.
Random: I've never broken a bone in my life...and I don't plan to.
Weird: Only one thing?;) Well, sometimes I mumble to myself while grocery shopping. "Ok, got the vegetables, now for the milk and...I'll get some of this...oh, milk and eggs...hey, what's this?!" Um, yeah.
Do you have a strong desire to do something you've never done? What is it?
Not really. I'm about the least adventurous person on the planet. But, you can check out my 101 Things page for a few things I'd like to do someday.
Movies: Action, Drama, Romantic Comedy, Documentary, Comedy? What are your favorite genres?
Period dramas, westerns, musicals, romantic comedy (but no mush, right Grace?;), comedy, adventure, some sci-fi and fantasy. I'm a movie fanatic - I'll watch pretty much anything, providing it's clean and Christ honoring.
Books: Fiction, Non-Fiction, Romance, Biographies, True Stories, Self-Help, Devotional/Study? What are your favorite types of reading material?
Historical fiction, some romance, adventure, some fantasy.
Music: Funk, Rock, Country, Jazz, Classical, Film Score, Blues, Classic Rock, Crooner, Alternative, Heavy Metal, Techno? What are your favorite types?
Bluegrass, Celtic, hymns, some classical, some contemporary Christian, movie soundtracks, and oldies like The Andrews Sisters, Rosemary Clooney and some Ricky Nelson.
If you inherited a million dollars, what is the first thing you would do with your money?
Buy a 15" MacBook Pro =D (No, Brett, not gold plated;) I'd save and giveaway the rest.
Name one weakness of yours (confession is good for the soul).
Movies? I love movies:) Staying up too late at night, too:)
If you could live anywhere at all (and take all your loved ones with you), where would you go?
I'd stay right here, thank-you-very-much. North Idaho is where I hope to live the rest of my life.
Strange Talent? Can you juggle basketballs, put your legs behind your head or perform some other strange feat?
I can tie a knot in a cherry stem with my tongue. Aren't you jealous?! (Thank you, Aherns!;)
And, I can crack eggs one handed, without getting bits of shell in the bowl:)
What's something you consider yourself to be good at? (Don't worry, it's not bragging, it's acknowledging a God given gift).
Sewing, crocheting, giving medication pills to dogs, graphic design (still learning:), singing, working with animals, riding horses, typing.
What is one of your favorite things to catch a whiff of?
Horses! Lavender. Vanilla. Peppermint. Lilacs. Fresh lemons from my grandma's tree in CA.
When you leave a social gathering, do you wish: You would have talked more or You would have talked less?
It really depends on the situation, but probably less. You can't put your foot in your mouth if it's closed;)
If money wasn't a factor, what stores would you shop in?
Christopher & Banks, Mary Jane's Farm Store, Ness, Cath Kidston, and many Etsy shops.
What is your greatest fear or strange phobia?
Heights, snakes and physical pain (getting hurt).
What is your greatest accomplishment?
Oh, I don't know - getting through a day without hurting someone with my hasty words? Does that count?
What are your favorite animals?
Dogs, horses, sheep, cats, chickens, tigers, and the
aye-aye
.
Are you a hopeless romantic?
Yes, I think so.
What movie or book character can you most relate to?
Jo March from Little Women or Margaret Hale from North & South.
.....
Well, that was fun!:)
Happy trails, y'all!