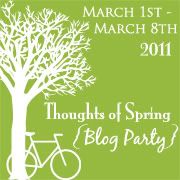 How would people describe your personality? (If they could only use ONE word.) Are they right?
I don't really know how to answer this one. . .
However, I do know that there are two basic impressions people usually have of me - the one being a first impression, the other a more gourmet character. (yes, I keep a journal, and yes, I am a Studier of Character;)
I try. . .
Now. What I would like to know is what word comes to mind when
you
think of me. For that is the crux of the matter!
And, do you think - that is, could I...
please
... be an alliteration? Nobody ever called me an alliteration before - and
please
... could you spell it with an
e
? :D
Who is your favorite blogger? Why?
Well, I love all of my real life friends, whose blogs I love to visit just to keep in touch and share inspiration, not to mention my blogging friends, whom I've been so incredibly blessed to get to know in the last few years, but - it would take a very long time to list them all out.
(I appreciate each and every one of you, dear friends! =)
So, for this question, one blogger came to mind that I absolutely adore. She is inspiration incarnate. Her sense of style is gorgeous, and her sense of humor just right. And her house. . . ooh, let's not talk about her house. Suffice to say, if I ever have a house of my own some day, I think it will have a very similar aesthetic. . .;)
Trip on over and see for yourself!
What is your comfort food/drink?
Piping hot peppermint tea and a homemade cinnimon roll. Oh, yes. . .
Be brave – tell us something very random and weird about yourself.
Random - if I were to put on a pair of two-inch heels, I would stand about six feet tall.
(Um-hm, I'm 5'10" :)
Weird - I really can't think of anything at the moment. I'll let you know. . .
Do you have a strong desire to do something you've never done? What is it?
Oh yes. I have
dreamed for years
of packing up my clothes, musical instruments, and a brave-hearted friend or two, and seeing how far I could make it across America by playing at each stop.
We would wear trench coats, shades, and pull out the harmonica at one place, then we'd get all jazzed up in western wear for some good ole' bluegrass at the next halt. On the way we could see all those places in the great country of ours that I would probably never get the chance to otherwise... Perhaps this counts as something
weird
about myself - Want to join me?!? =D
Movies: Action, Drama, Romantic Comedy, Documentary, Comedy? What are your favorite genres?
I adore watching Period Dramas, Comedy, Musicals, Westerns, and Creation Science lectures, to name a few.
Books: Fiction, Non-Fiction, Romance, Biographies, True Stories, Self-Help, Devotional/Study? What are your favorite types of reading material?
Anything amusing, informative, and edifying! A great many are listed
here
, on my library page.
Music: Funk, Rock, Country, Jazz, Classical, Film Score, Blues, Classic Rock, Crooner, Alternative, Heavy Metal, Techno? What are your favorite types?
I think music one of God's greatest gifts. And haunting Celtic, sparkling Classical, soul-stirring hymns, foot-stompin' Bluegrass, emotion-grabbing film scores, and toe-tappin' swing are my idea of a good representation!
If you inherited a million dollars, what is the first thing you would do with your money?
Well, if I inherited it, I suppose the first thing I would be doing is giving a hefty amount to the IRS in the form of inheritance tax. . . Oh. Goody.
Then
, I would build my family's dream home, continue to develop our property into a self-sufficient homestead, and invest a bit in launching my dream design business. So's I could make more. ;)
Name one weakness of yours (confession is good for the soul).
I have an unaccountable weakness for devilish, small, bucking and rearing, indescribably handsome, deep red chestnut Morgan horses.
A very dangerous weakness, but a fulfilling one, I assure you.
If you could live anywhere at all (and take all your loved ones with you), where would you go?
Right where I'm at, actually! I thank God every day for allowing me to live with my family in the most beautiful spot on earth - north Idaho.
Strange Talent? Can you juggle basketballs, put your legs behind your head or perform some other strange feat?
Well, since you mentioned it, I
can
wiggle my toes in a most uncanny way. . . =D Does playing the accordion count? :)
What is one of your favorite things to catch a whiff of?
Horses. And leather.
Also fresh sunshine, lilacs, clean babies, a wet summer thunderstorm, and almond extract.
If money wasn't a factor, what stores would you shop in?
Let's put it this way - If money wasn't a factor, I'd shop at more stores! =)
More specifically, I'll say myriads of Etsy shops, Cath Kidston, Hmm... Amazon? Yes, Amazon and Costco! Victorian Trading Co, Fabric.com, antique stores. . .
What is your greatest fear or strange phobia?
I'm a rather cool and calm under pressure sort of person, but the one time I was anesthetized (to have my wisdom teeth removed) I felt absolutely wild. Before I went under, that is:) I shiver every time I recall that awful, helpless feeling.
What are your favorite animals?
Beautiful, caring horses (chestnut Morgans for me:), loyal dogs (a scottie, a cowdog mix, and a Berneese mountain dog, please!) naughty river otters, black-capped chickadees, good-natured milk goats, sonsy, bustling chickens, cuddly barn kitties... giraffes are rather facinating, too - I love animals.
Are you a hopeless romantic?
I like to think I am. It's the romantic in me - to quote Louis Renault from
Casablanca
;)
Though I wish whoever coined that phrase would define it a little better.
Me? Romantic? Of course. Hopeless? Why no, thank you.
What movie or book character can you most relate to?
Have you ever read
The Grand Sophy
by Georgette Heyer? Well, Sophy is really me. Indeed.
.:.:.:.:.:.:.:.
Well, it's been fun, and I must now bid you all auf Wiedersehen.
Thanks for reading, and if you'd leave me a note, well, quite simply, I'd love it!
A beautiful Monday evening to you all!
~Kellie~
P.S. No, unlike Sophy, I don't carry a handgun in my muff. Yet...